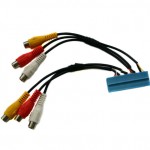 This interface allows for the seamless connection of an aftermarket Digital TV Tuner to the existing factory Analogue TV Tuner.
The interface connects to the existing Analogue TV Tuner and provides you with at least 1 x AV Input.
Please Note: This interface range doesn't enable you to control the aftermarket Digital TV Tuner from the factory system.
The stand out feature of the interfaces is the fact that it's integrated into the vehicles factory system without the need of any further equipment. The vehicle specific Plug & Play harness kits allow for both easy installation and trace free removal of components to account for todays need to being able to restore the vehicles system to its original condition if required.
Features
- Perfect Integration to Original Equipment
- 1 x Audio/Video Input
- 24-Month Warranty
- Plug & Play Installation
Available for the following models