This interface range enables you to activate various factory facilities via the 'On Board Diagnostic' (OBD) port. This eliminates an expensive visit to the main dealer.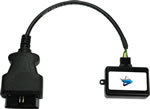 There is an individual interface available for each of the following facilities:
'TV' Icon Activation
'CD' Icon Activation
'AUX IN' Activation
'AV' Input Activation
Rear Seat Entertainment Activation (Factory AV Output)
Rear View Camera Activation
Activation for External Navigation (Deactivates the internal navigation system)
The interfaces can be supplied programmed either for single or multiple usages (e.g. 1 x Activation / 10 x Activations).
Features
Perfect Integration to Original Equipment
Simple Activation of the Factory Facilities
Programmable for Single or Multiple usages
Plug & Play Installation
Available for the following models (Click on logo for more details):